Advanced Hearing Services in Guernsey
By Geoffrey Cooling on 15th October 2015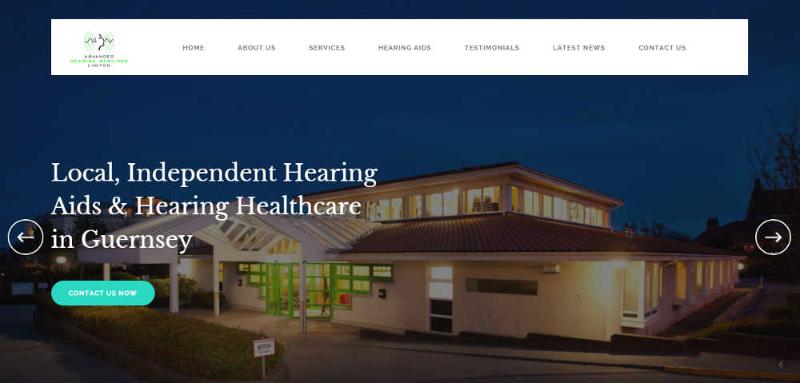 A prestige hearing aid centre build
We have recently finished a couple of websites, one of which was for a prestige hearing aid centre in Guernsey. Advanced Hearing Services is a local family run independent hearing healthcare practice with a long history in Guernsey. The centre is owned and run by Mario Cavagnetto and his wife. Mario takes every effort to ensure that he provides a world class service that meets the highest clinical standards but still affords great warmth and welcome.
It was incumbent upon us to try and display this in the site build. After speaking to Mario about his outlook and ethos, the copy really wrote itself. The design elements that we used were really given power by the personalised images that Mario supplied of him at work and the practice.
Striking CTAs
Those images allowed us to really drive that professional but welcoming feel across the site. they also lent themselves well to to some visually striking call to action elements. We experimented here with on page visual CTAs that included simple forms. We have engineered them to give us total transparency on their performance.

Again, as we learn and experiment, we incorporate that learning into our ongoing designs. For instance, we now strongly advise each customer to include a brand/testimonial video in their home page. The results from that experiment prove without doubt that well edited and delivered video drives strong engagement and conversion.
Believe me when I say though, you can't just throw up any old video, it needs to be well thought out and edited to drive real emotional engagement. We were lucky that we came across Danny Yates in this regard.
Branding Driven By Visual Engagement
Back to Advanced, they are considering how they manage to generate their video at present. However, we think that the site is striking and it will drive engagement as is. It was a pleasure to work with the practice, Mario really understands branding and the visuals that will drive it. We had a huge amount of visuals to work with which is an exceptionally happy event for us.
The site can be found at http://advancedhearingservices.gg/ I hope you like it as much as we do.