The Strategy That Helped Drive A Million Pageviews a Year Hearing Aid Website
By Geoff Cooling on 28th February 2018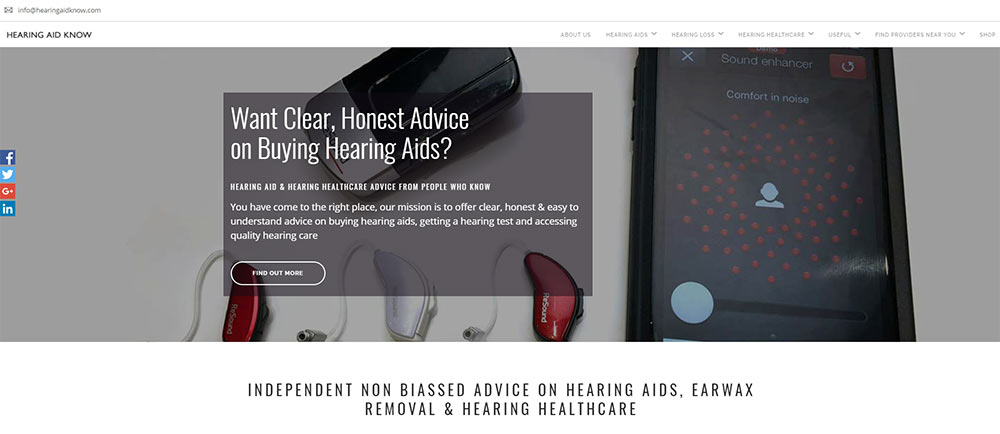 Outlining A Hearing Aid Website Marketing Strategy
The very first thing you need to do before you consider what steps you will take is to understand where you want to be. Where you want to be is your strategy, the steps you take to get there are often both strategic and tactical in nature. So the first thing I need to address is where we wanted to be and more importantly why?
What Did We Want?
When we began this process one of the first things we needed to ask ourselves was what did we want to use Know for? What did we want to achieve with the site? While this might seem obvious to you when you consider what you want to achieve with your website, it might not be as obvious as you think. If I asked you the question, your first answer would probably be to get more business right?
While that is the obvious answer, it is not and should not be the full answer to the question. Would you like to achieve professional authority for your business with your website, would you like your website to drive your personal authority, would you like your website to drive your brand, would you in fact like your website to outline and drive your brand and ethos? The answer should be all of these.
Independent Hearing Aid Advice
The thing is that Hearing Aid Know is not really our business site in the full context of that concept. It had been set up as a go-to site for hearing aid advice for consumers. We wanted it to remain like that, however, we decided that we wanted to widen the remit of the site. We decided that we wanted to begin advising consumers on the efficacy of some of the Independent hearing aid providers that we work with. We discussed this among ourselves and basically, we decided on what we wanted to be or where we wanted to go.
The Go-To Website For Unbiased Advice to Consumers on Hearing Aids and The People Who Supply Them
The Most Authoritative Site For Hearing Aid Information
Basically, that was our end goal, we wanted to be the go-to site for hearing aid information globally. We wanted to be seen as a complete authority within the hearing aid space and in doing so ensure that the people and hearing aids we spoke about received trickle down authority.
We knew that we would have gone some way to success when we had reached a million page views a year. That would not be the end of the journey, just a milestone on the way. We expected to do it within two years, but we have arrived there a year early. So much for where we wanted to be, exactly how were we going to get there?
Getting people to your website
The answer in its simplest form was to get people to our website. However, it was important that when they got there, our appearance and their experience was what they expected or better. To get people to a website you either need to focus on search engine optimisation (SEO) to appear organically or you pay for advertising, or maybe do both.
We were too mean to pay and like I said, we wanted it to act as a case study for our own talents, so we needed to focus on organic results. So our outline strategy was as follows
Re-design the site to better reflect Hearing Aid Know as a brand and to meet new seo and user experience standards
Introduce a completely new section focused on professional providers which would include information that allowed the consumer to identify when they were being treated with best practice protocols and offered the very best hearing aid equipment
Introduce a new section that would allow consumers to view and choose to contact Independent Providers of hearing aids and services in their area
Introduce new profile pages for Independent providers that would pass seo juice to their sites and allow them to target local search
Do all of the above for ear wax removal providers as well
Widen the focus of the site to encompass the wider world of hearing loss and its treatment options including assistive devices
Widen the information on the site to include more focused hearing loss and tinnitus information
Focus on the cornerstone content that delivers the answers to the questions consumers are asking
Focus on long form and short form articles that would be used to support all of our cornerstone content
Add an e-commerce section to the site with the long-term strategy to push sales globally and the short-term goal of assisting in seo
Use our blog to announce and review all new products that pertained to hearing loss as they entered the market
Widen existing hearing aid pages to focus on the hearing aids that are available from the biggest manufacturers
Introduce guest bloggers who had something to say of interest
It's a Continual Process
The key thing that we understood and that you should understand is, that this is a continual process. We are constantly tweaking how the site looks and how it works, we are constantly adding more and more articles and pages to the site. All of this is focused on delivering the information that consumers want.
Building Authority
Our efforts are also designed to build our authority within the space because authority delivers trust. Trust is something that is short when it comes to hearing aid websites and hearing aid providers. It seems that consumers consider all hearing aid professionals as possible liars until they prove otherwise. We felt trust was important because we wanted consumers to trust us enough to take our recommendation for a provider that would look after them.
You Should Be Doing it Too
Your goal is to be the authority in your area because that is how you will attract prospective consumers to you. To do it, you should be looking at the strategy we used carefully because we know it works. Over the next few articles, I will discuss the different things we did, why we did them, what we wanted from them and the direct effect they had.