Visual CTAs & Engaging Audiology Websites
By Geoff Cooling on 15th August 201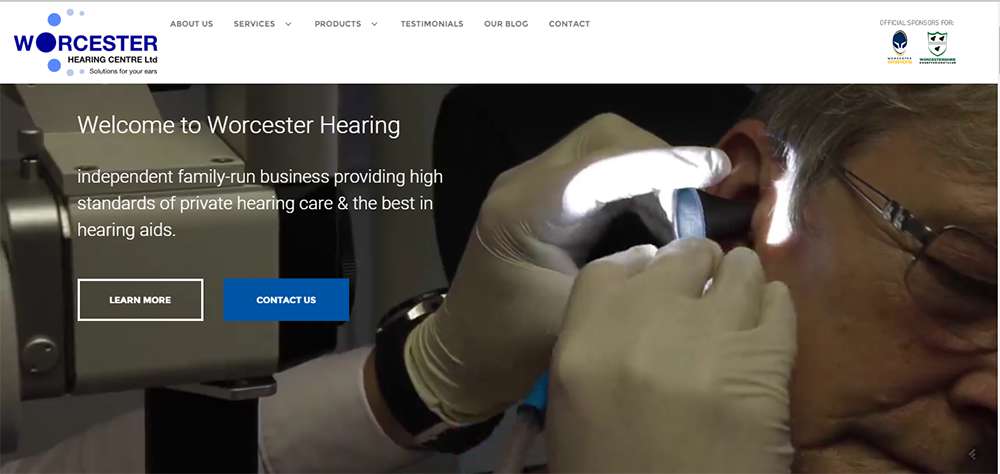 Continuing our Visual Strategy
In our latest builds we have started to use a new strategy based on best practice knowledge on social proof and call to actions. We begun the strategy with www.hear4u.co.uk, expanded it with www.heathscreenuk.co.uk. We have now completed a new build that brings together all of our learnings from those sites.
Worcester Hearing Site Build
Worcester Hearing Centre is a premium independent hearing healthcare practice in Worcester UK. They asked us to build a site that updated their own and drove enquiries. Although their original website was being viewed, it never had driven any enquiries. We started our usual process of getting to know the owners at Worcester Hearing. This is an important part of our process.
Representing A Brand
In order to represent a brand, we need to understand the people that make up that brand. We need to be clear about what they think heir brand is and more importantly what their Patients think their brand is. This allows us to position a website that doesn't cause cognitive dissonance. The brand portrayed on the website is exactly how the brand represents itself in person.
This is quite important, in particular because our prospect viewers are more savvy in relation to what they want and whether you fit the bill. So it is important that we present you in the best possible way, but it is also important that we represent you in the truest possible way.
A Developing Understanding
Our understanding of what works to drive prospects to leads is constantly evolving. The more data we analyse from the websites we run, the better our understanding becomes. ?We constantly analyse the data we receive in our analytics package to really understand what is attracting prospect viewers and what is making them leads. In this way we really can understand what blog articles or web pages drive most engagement and support your site well. We then use those pages for experimentation, adding visual CTAs to see what happens.
That is how we know that good visual CTAs work a little better to drive engagement. After all, engagement and leads is what you need and want. Website page views are of no consequence unless you are actually writing business from them.
The Visual CTAs
The Hearing Test Come On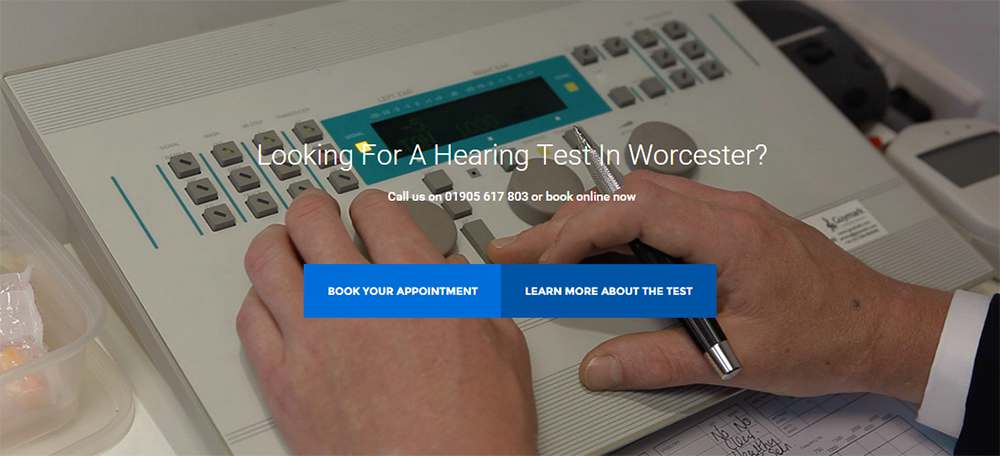 I think the reasoning behind this call to action is obvious, we are trying to drive appointment enquiries. The key here is that the CTA really stands out, it is obvious what it is about and it gives the prospect clear information about what to do next. It also gives prospects options, make a call or fill out an email form. We know that giving our prospect demographic easy options is important and increases conversion.
The Earwax Removal Come On

Again, you will have no issue working out what this CTA is about, the key is that neither will your prospect viewer.
In-depth Visual Use
On Worcester hearing we have used visuals in a more in-depth way across the site. Instead of the usual text boxes and icons for the services and hearing aids pages we have used background visuals with html overlaid. This allows us to add a very eye catching element and in a lot of cases makes each service box self explanatory through visual recognition.
It is something that we will use in the future, it shouldn't become repetitive or staid either. Because for each Practice we will use images from their Practice. In this way, no two CTAs will look alike. The use of imagery from the Practice also allows us to drive that brand in a joined up and visual manner. It is really win win for us. We are also going back on our existing sites and looking at how we can integrate this new understanding. Because, just because we didn't have the knowledge then, doesn't mean that our existing customers should suffer for the lack of it.