The Audiology Engine website administration panel
By Steve Claridge on 27th April 2015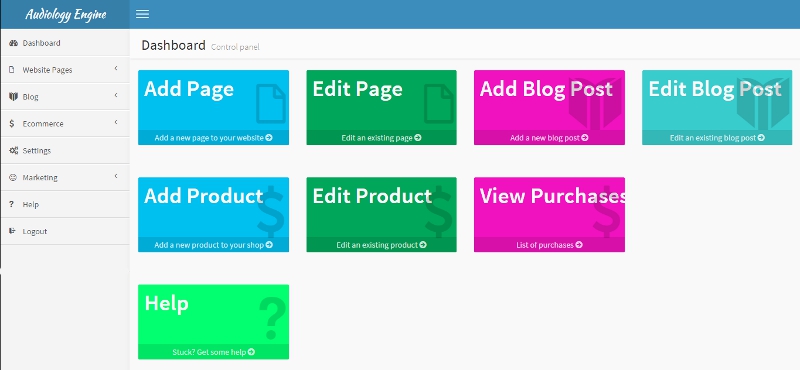 All webites running on our Audiology Web platform have an in-built administration panel that lets you easily manage the website. It allows you to add/remove/edit pages, manage items in the online shop, update social media profiles, check marketing details and more.
I previously wrote about how to log in to your audiology website, once you have successfully logged in you will see the main dashboard, which is the screen shown in the image at the top of this article. The dashboard is the main navigation point for adiminstrative tasks and has clickable options for anything you might need to do.
As you can see from the screenshot at the top, the dashboard has a left-hand menu (as do all pages in the admin area) with shortcuts to tasks. To the right of that are large buttons that provide quick access to the most commonly used tasks.
Adding and editing Pages and Posts

Our websites are built around the concept of Pages and Posts, which is similar to Wordpress and most other website publishing systems. I always have a really hard time explaining the difference between a Page and a Post but here goes:
A blog (short for weblog) started out life as an online diary where people would write entries in chronological order and each of those entries was called a post. Blogs evolved from being an online version of a diary into what they are today: a series of informational entries centred around a common theme - but the term post persists and simply means an entry in a blog.
So a Post in our system is an entry in the blog section of your website and is typically used to give your patients, or potential customers, information that will help them in some way. Posts are promoted on social media and are seen as timely, often-updated entries to your website.
Pages are all of the other pages on your website that are not entries in the blog. The bread-and-butter pages that remain unchanged for long periods but make up the main structure of your website and guide a visitor around so they can see who you are and what you have to offer. Examples of Pages are: the home page, about us, contact us, make an appointment, and so on.
I will follow this article up with another that takes an in-depth look at how editing of Pages and Posts works.
Online shop options

If your website has an online shop then you will see the above options in your admin dashboard.
These options are pretty self-explanatory: you can add, edit or delete a product in your store and you can see a list of the purchases people have made.
The View Purchases page shows you all the details of the purchase, what was purchased, by whom, their address and their payment details.
As with the Posts and Pages, I will follow this article up with another that shows these options in more detail.
Would you like to know more about how our product works? Please feel free to get in touch with us.